So now here goes my moms purse.
I haven't shown it to her just yet. I love it I did start writing the pattern as I went but, then I fall off of writing I was so used to just crocheting that I stopped counting rows and gave up on writing it.

So here it is. Love it.
This purse is done all in one piece well the body of the purse is the back, front and bottom the straps are crochet on.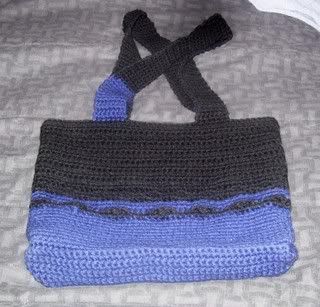 Front




Back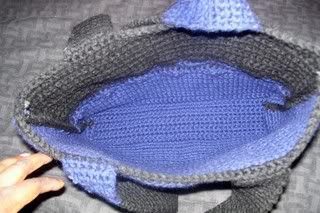 Inside, still debating to put a lining in the purse. I want to ask my mom what she think before adding it because tell you the truth it looks nice and it keeps its hold without the lining.:)


Yarn: Red Heart, Navy and Black
Stitches: DC, HDC, Treble, Triple, SC
Hook: I
Done in double strands to give it more of a body and shape



Ok now here goes my cousin messager bag. She's still in school and she said, she want something that will have a flap to it and go over her arm and head so here it goes. I didn't do a pattern to this but, it was so easy to do that next time I do one I will write it down as I go. This purse was done in all one piece that is what makes it so simply and easy.
As you can see below the purse also has the letter A on it meaning my cousin name is Ariel. I haven't yet given it to her but, I know she will love it she seen all the other things I done before and just say Oooooooooo I want one. So there you have it my weekend.

So here is my cousin's messager bag.
The body of this bag is done in all one piece the flap, back, front and bottom. I then attached the strap.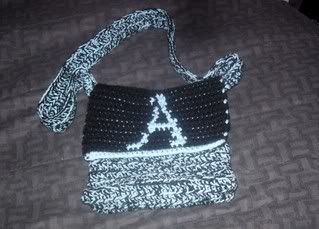 Front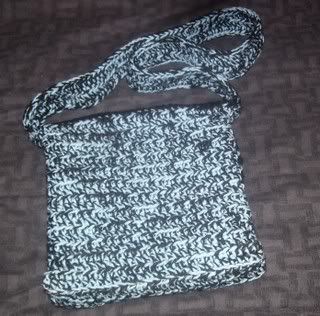 Back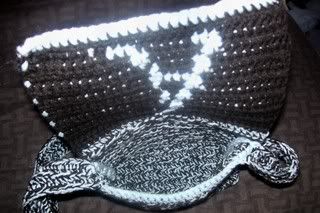 Inside with flap open


Yarn: Red Heart, Black and Light Blue
Stitches: HDC, SC
Hook: J
Done in double strands one strand black second strands blue thats for the whole body and strap. For the flap done in 2 strands black for the background and 2 strands light blue for the letter A. The double strands is to help give the bag more shape to it.

Thanks for looking :)