Ok here go some house shoes I whipped up for my girls. I was practicing to see how it turns out while doing the first shoe. My girls was ohhhh and awwwwing so I decided to go ahead and finished them up and here they go.

To the left is my oldest daughter Nesa's house shoes to the right is Nellie's house shoes that's my youngest and last child:)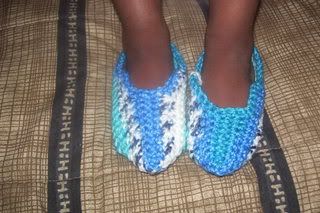 Here go Nellie with her pointed toe house shoes. Reminds me of elfs shoes lol.



Here go Nesa's.

Again no pattern one day I will have to sit and write a pattern as I crochet it's just that I am so used to making up as I go. :) So what do you all think??????